The Northeast Outlaw Pro Mod's Return to Atco Raceway "Super Saturday"
Pro Mod's, Outlaw 10.5, Drag Radial And Index Action At Atco, The Ultimate Doorslammer's.
Photos By goDragRacing.org and "TwistedVette" Photography
Earlier in the week the seasons changed from summer to fall but no one expected to still be feeling mid July temps on this Saturday for the "Super Saturday" at Atco Raceway that featured more than seven classes of drag racing including the "Outlaw 10.5" series, 8.50, 10.0 and 12.0 index, 275 Drag Radial, and the normal class racing of top sportsman, and top dragster. Racing was considerably tight throughout the day even though heat was part of the show that drivers and crews would surely have liked to see gone from this Saturday and maybe get that great air and a cooler surface to head down the 1320ft of concrete and blacktop as racers strive to break records that have been "held back" in ways only an engine can feel with this years unrelenting temps.
Please Read More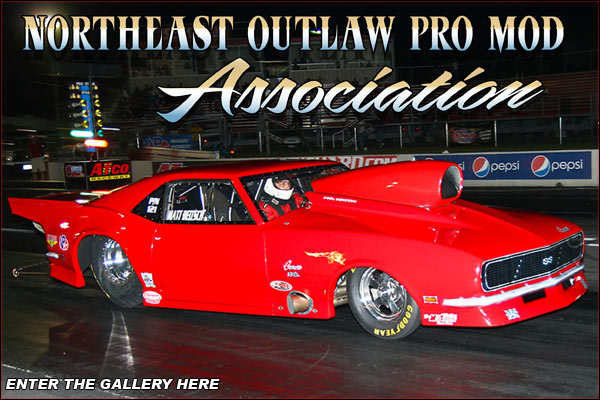 Enter The Northeast Outlaw Pro Mod Gallery From The "Atco Super Saturday" 2010 Over 350 Images
One of the very few Doorslammer classes left to run the full quarter mile, the drivers and teams did not fail the fans, screaming blowers, the whir of the spinning turbos and of course the full lit tune ups of the Nitrous entries made night time racing most impressive. Through qualifying to eliminations, these 1320 warriors gave the fans a look at their wild machines under power all day with the ever popular "Pro Mod Style" burnouts and wide open exhaust stirring your senses; it's an image of sounds, smell and pulsation inside your body that makes this most memorable for all once they unleash these beasts.
Again Jimmy Biggs of
BulletVision
and
YellowBullet.com
was covering the race via his online show and You Tube Channel with "Rockin Rob Cherkas" on the speaker with color commentary, Association President John Mazzarano giving facts and features on the drivers, leg work and data provided by "Vito Micciolo" with added photos from Joe "TwistedVette Photography" and goDragRacing.org. Amazing photos can be purchased online by "The Drag Racing Photographers" Dave Milcarek and Steve Bell, these shots are incredible so please visit them and purchase high quality photos
Here:
.
Pro Mod Qualifying Session Recaps:
What could be more exciting than having all the classes battle it out as one, this was the case for this part of the Atco "Super Saturday" and the Northeast Outlaw Pro Mods. Not enough cars to build a double session as they are used to having after so many combined races and looking into a week with the Shakedown At E Town within six more days of this one, the usual suspects were either testing or holding their machines together for this upcoming "Race Of The Northeast". The track looked to have some good bite in it and full passes were quite possible by most of the racers though they found some of their limitations in their tune ups. Atco is known for having one of the longest shutdowns in the area and a smooth trek to the turn-off so these racers could let it hang out. Matt Deitch who is gaining strong popularity again; his teams rightfully hard working efforts earned the top spot dropping a blazing 6.169 @ 228.27 in the heat. Steve King is again "The King" driving the Supercharged Camaro into the second spot 6.193 @ 236.05; Tim O'Hare is also one of the names you have to associate with the Premiere blower cars leaves his mark at number three in the ladder 6.249 @ 205.10. Derrick Townes is basically one of the "personalities" of this series and drivers, this awesome Camaro pro mod simply thunders its way into your mind as a favorite; win or lose is plain wicked. Townes ended up in the number four spot 6.310 @ 233.76 quite a bit off his mark followed by Tommy Gray and the "Undertaker" GTO, Gray is known best for his teams dedication to getting wins, his supercharged entry clicked off a 6.357 @ 230.21 while Frank Patille better known in the pro mod world as the owner of the baddest Buick on the planet lost a bit of his regular excellent ET flashing the boards with a solid 6.395 @ 211.76 leaving himself in the number six spot. Gerry Capano and the classic looking Corvette posted a one time shot as his first attempt was nullified by leaving before the tree fell, his one shot was good enough to take in number seven 6.467 @ 225.26. Out of nowhere comes Ned Katuran in his Cobalt Mountain Motor ride, this car has no place in this crowd of pumped up machines yet his car just plain worked and it got him the number eight spot 6.494 @ 220.73. Steve Drummond continues the trend of a enamoring his fans with the "deliciously " painted deep burgundy Mustang with twin turbo's clicking off early 6.876 @ 195.14 with god ET and wildly low MPH, these turbo's create some real thrust up top in MPH. Randy Jewell follows with his first appearance at Atco in the RJ Pro Fab Twin Turbo Camaro posting a good qualifying run and big MPH 6.944 @ 233.64. David Hance of New York Motorsports and Originator of The Shakedown At E Town just up the road was doing double duty in this class with his 57 Chevy Twin Turbo entry and Outlaw 10.5 with his Drag Radial Mustang; as a regular in the ADRL XTF class which is Pro Mods on 10.5 tires the car had some issues but still made the ladder 7.018 @ 133.98. Fidelio Montron or "Fifi" as he's known ripped through his qualifying only to be let down with his numbers when he was on such a roll from previous races, this is one bad machine fella's with a 7.038 @ 188.67. Fan Favorite Larry Plummer drew down on this track but it got the best of his car not making a clean pass ending up in the ten second range 10.681 @ 101.10 but his tenacity of the team and the vicious Firebird would later come back as rounds began. Fredy Scriba was just plain off this day, his club setting record numbers were nowhere to be found as the Vette was darn near in last place 11.350 @ 75.41 followed by A plagued Gary Courtier who was not having the best of an event but was in the race despite getting no times.
Please see the following Results of qualifying Below
.
Pro Mod Final Qualifying Order:
1) Matthew Deitch, 68 Camaro, Nitrous BBC, 6.169 @ 228.27
2) Steve King, 68 Camaro, Supercharged Hemi, 6.193 @ 236.05
3) Tim O'Hare, 68 Camaro, Supercharged Hemi, 6.249 @ 205.10 | Website:
Timothy O'Hare Custom Homes
4) Derrick Townes, 68 Camaro, Supercharged Hemi, 6.310 @ 233.76 | Website:
Derrick Townes Pro Mod Official website
5) Tommy Gray, 06 GTO, Supercharged Hemi, 6.357 @ 230.21
6) Frank Patille, 57 Buick, Supercharged Hemi, 6.395 @ 211.76 | Website:
CCI Motorsports "Home Of The Baddest Buick Pro Mod"
7) Gerry Capano, 63 Corvette, Supercharged, 6.467 @ 225.26
8) Ned Katuran, Cobalt, All Motor, 6.494 @ 220.73
9) Steve Drummond, 08 Mustang, Twin Turbo, 6.876 @ 195.14 | Website:
Drummond Race Cars
10) Randy Jewell, 68 Camaro, Twin Turbo, 6.944 @ 233.64 | Website:
RJ ProFab
11) David Hance, 57 Chevy, Twin Turbo, 7.018 @ 133.98
12) Fidelio Montron, 03 Corvette, Supercharged, 7.038 @ 188.67
13) Larry Plummer, 68 Firebird, Supercharged Hemi, 10.681 @ 101.10
14) Fredy Scriba, 63 Vette, Nitrous BBC, 11.350 @ 75.41
15) Gary Courtier, 68 Camaro, Nitrous BBC, NT @ NT | Website:
Courtier Home Improvements
Pro Mod Eliminations Round One:
With the day having various classes, Rounds cam e late looking for cooler air to move in under clear skies and a stunning sunset. Gerry Capano started out the rounds against Ned Katuran, Capano .033 8.593 @ 114.60 had the complete package of power speed and reaction time over the "Atco Professor" Ned Katuran .060 8.962 @ 105.27, Capano will see round two. Larry Plummer would jump the gun lighting the RED on the tree -.037 6.280 @ 232.71 allowing Steve King .047 6.113 @ 236.05 a next round appearance with some HUGE MPH. Tim O'Hare .048 7.324 @ 155.67 had it all over a tire shaking Fifi Montrond .120 22.01 @ 42.73 followed by Gary Courtier .072 6.401 @ 223.69 getting some of the earlier bugs worked out to beat the points leader Fredy Scriba .062 8.854 @ 101.82. Tommy Gray .092 12.388 @ 63.90 has this round to himself as his opponent Randy Jewell was down and didn't make the call. Derrick Townes .096 8.075 @ 118.15 also gets a bye run as Dave Hance announces his car is down. Mathew Deitch .015 8.088 @ 120.46 takes his earned BYE run into round two. Steve Drummond also gets a solo after his opponent Frank Patille calls out sick with an ailing 57Buick prior to the run .017 7.438 @ 139.00, Round Two Results Follow.
Pro Mod Eliminations Round Two:
In a double red light situation both Steve King -.122 8.507 @ 108.14 and Gerry Capano -.365 15.890 @ 51.01 were off the tree way too early and King moves on with the lesser of the two evils to see the semi finals. Steve Drummond -.010 6.748 @ 182.60 and Tim O'Hare -.019 8.762 @ 107.69also decided the tree would be longer than expected as both competitors had massive power to make this a brutally close race, I think most would have loved to see both cars run this out but Drummonds .009 difference was better for the win. Mathew Deitch .099 6.167 @ 233.63 showed the NEW York Nitrous Muscle as Gary Courtier had power and traction issues .037 16.083 @ 71.47. Now for the best race of the night, Derrick Townes and Tommy Gray fired the two beasts up, people awaited this one in the bleachers looking for a drag race and they got the best of the day with Townes outrunning Gray with a come from behind win .038 6.211 @ 232.63 over an equally impressive .025 6.227 @ 238.22, this giant MPH wasn't enough to overcome the loose track at the top end. Townes and Gray again gain hundreds of more fans cheering over the sounds of the motors coming down in a drone on the top end.
Pro Mod Eliminations Semi Finals:
Deep into the night the class was whittled down and Steve King was hurt not making his pass giving the win over to his lane partner Steve Drummond .075 9.750 @ 93.06; Drummond was loose from 300 feet out but you won't see a ride with this much power simply coast to this ET and MPH often. Both cars next in line had some tight quarters when it came to their number with Matt Dietch holding more on Derrick Townes, just who would get down the track mattered, Townes stayed on his game a Dietch would lose power early, Townes forces the Camaro Pro Mod into the final .034 6.270 @ 231.24.
Pro Mod Eliminations Finals:
Atco Raceway's strict policy on curfew resulted in both finalists not able to run the round. Both were awarded a trophy and monies for their efforts and will surely see each other to determine this in possibly a round situation later before their series ends. The racers despite the low car count gave the fans the show promised, loud, lean and mean driving to the top end with agile tuning and complete participation of everyone involved.
:About
The Northeast Outlaw Pro Mod Association
Management and Sponsors:
This team of management is a dedicated group led by John Mazzorana "President" and Vito Micciolo who have extensive backgrounds in promotion and Pro Modified Drag Racing for many years. Vito Micciolo is the head statistics "go to guy". The voice and "faceman" of this group is John Mazzorana doing his part more on the relations side of the marketing, a flamboyant gentleman and well like by anyone that meets him. Vito is a seasoned IT specialist which helps the group immensely in promotion with his knowledge of how to get the races announced and perceived via net with his talents. Inside this group is a crew of various press specialists that have a long standing affiliation with many forums, organizations and promotions that further the communication on the net. is Jimmy Biggs of
BulletVision
; an online viewing of shows he creates through the huge membership of
YellowBullet.com
and many others with a voice everyone knows in racing "Rockin Rob" Cherkas stepping in to announce the race rounds from the tower and do interviews with racers in a television style format similar to the NHRA. Shows are available at anytime through the website BulletVision and Quick Stats are online at the
Northeast Outlaw Pro Mod Association Official Website
in the race results. This group is backed by racers, and sponsors that look to bring this more forward in the racing arena's with more assistance, Apply now to become
A Sponsor Of This Association Here
: along with the businesses already onboard.
See Below:
NEOPMA Associate Sponsors:
Performance2Way Communications
, Barker Racing,
Ram Clutches,
Star Transporters
,
T&F Racing
,
VP Race Fuels
, Star Cab Co.,
dtpromod.com
, Pullin/Plummer Racing,
Mickey Thompson
, Richards Automotive,
Gary Courtier Home Improvements
,
American Racing Headers
,
Western Beef
, Performance AutoCrafters,
CCI Constructors
,
Timothy O'Hare Custom Homes
, Speedtech,
WD4ME.com
, Pearl River Automotive, and Amato/Cannonball/ModZilla Racing,
Total Flow Cylinder Heads
.
Atco Super Saturday Outlaw 10.5 Session
Qualifying Highlights: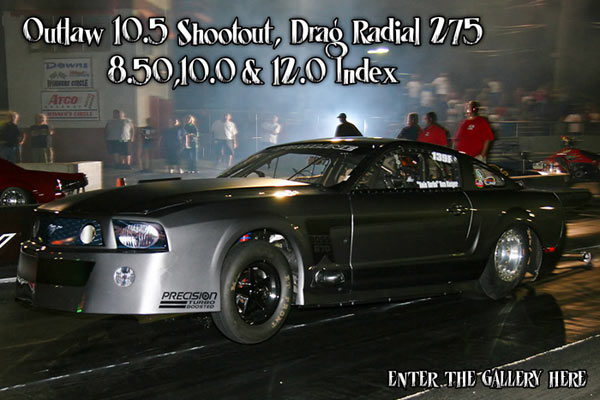 Since the trend towards the 1/8 mile "Outlaw 10.5" classes began taking shape, Atco has been a breeding ground for many of the top contenders, shops and drivers. The surface is always optimal, teams are of the highest competitiveness and many are native to the area so fans have a following and more so their favorites. There are so many qualified drivers to give you a show you won't regret spending that increasingly shrinking dollar; the heads up racers give you your moneys worth each race. Team "Christy / Kasper Racing" proved how dominant they can be garnering the two top spots with Father "Twin Turbo Tommy Kasper" taking the low ET props and number One qualifier with a solid 4.354 @ 179, followed by son T.J. "Kid Kwik" Kasper in the "other" Mustang ripping some wicked MPH out the back door 4.413 @ 186.90. Charlie Dolbin proves again the gloriously painted "Caldwell Racing" Mustang sniffing laughing gas was capable of knocking down a brilliant 4.477 @ 167. Both qualifiers held 16 cars in the ladder with Dave Hance crossing over in his Mustang since making changes exempted him fro the 275 session. See All The Qualifiers Below:
Final Qualifying Order Outlaw 10.5:
1) Tom Kasper, 2005 Mustang, Twin Turbo, 4.354 @ 179
2) T.J. Kasper, 2003 Mustang, Twin Turbo, 4.413 @ 186.90
3) Charlie Dolbin, 2005 Mustang, Nitrous BBC, 4.477 @ 167
4) Harry "Buck" Jarvis, 69 Camaro, Twin Turbo, 4.511 @ 169
5) Dale Collins Jr., 2002 Camaro, Twin Turbo, 4.532 @ 164
6) Larry Wood, 2009 Corvette ZR1, Twin Turbo, 4.550 @ 170
7) Craig Pio, 00 Camaro, twin turbo, BBC, 4.623 @ 175
8) Brad Harris, 01 Mustang, Twin Turbo, 4.714 @ 155
9) Steve Gorman, 04 Mustang, BBC Twin Turbo, 4.759 @ 167
10) Tommy Mauro, 92 Camaro, BBC, Procharged, 4.778 @ 155
11) Shawn Zubler, 99 Trans Am, Twin Turbo, 4.873 @ 152
12) Joe Newsham, Camaro, 5.081 @ 131
13) Steven Kluepfel, Mustang, Supercharged, 5.140 @ 148
14) Doug Harris, 06 GTO, Twin Turbo, 5.396 @ 99
15) Dave Hance, 93 Mustang, Twin Turbo, 5.402 @ 148
16) Bill Mitchell, 96 S10, BBC Twin Turbo, 5.932 @ 102
Outlaw 10.5 Eliminations Round One:
Some of the qualifying took its toll on racers machines so look for the bye runs down in the eliminations. Steve Gorman and Brad Harris opened up the rounds with Gorman .119 on the tree behind Brad Harris .044, Gorman put on the power fast as the stunning Mustang lifted the tires and carried it out for the win 4.482 @ 175 to Harris' losing effort, 4.782 @ 160. Though Tommy Mauro stabbed the tree with a perfect .000 light it wasn't enough to overcome the charge by opponent Craig Pio, Mauro 4.855 @ 156 loses to Pio's 4.56 @ 172. Larry Wood had a bye run As Shawn Zubler would have made a cool looking match of the "Blue Gm's", Wood took his time and promptly sent the car into tire spin .045 8.62 @ 69. Joe Newsham and the strongly qualified Dale Collins jr. left almost identically .048 to .0467 respectively. Newsham got back that edge to stay ahead of Collins who struggled to get the power down losing with a 4.894 @ 156 to Newsham's much better than qualifying 4.646 @ 169. Steve Kluepfel landed next to Harry "Buck" Jarvis with the detrimental effect of the new build blues after going over the supercharged Mustang losing .066 4.774 @ 153 to Jarvis' 4.568 @ 170. Doug Harris was in for a race against Charlie Dolbin, both powerful Machines, Dolbin gets the win with pipes aflame 4.404 @ 176 while Harris was severely out of shape tagging the wall fairly hard, Harris was OK and damage was not severe. Dave Hance was in test mode with major changes to the fuels system on the mustang losing .033 4.850 @ 153 to T.J. Kasper's skating .075 4.645 @ 141. Bill Mitchell .022 5.664 @ 93 found himself again not able to get a clean run from the S10 losing to Tommy Kasper's very strong winning .052 4.349 @ 179.
Outlaw 10.5 Eliminations Round Two:
Harry "Buck" Jarvis wound up in the next lane as Joe Newsham. Newsham was .032 on the tree to Jarvis' .019 launching high as usual, the 69 Camaro tried to keep up with Newsham as Jarvis struggled to grab ever inch of track the tires would accept in a losing effort 4.479 @ 173 to Newsham's winning and getting better 4.406 @ 173, tuner Chris Cline said "we're finally sneaking up on this car adding power and working the chassis". T.J. Kasper had his Mustang on a rope teetering on the back tires as he handled Craig Pio easily while Pio struggled to get the car down the 1/8th on this run. Kasper had the leave .029 vs. Pio's .038, with Kasper tripping the boards "W" 4.331 @ 187 to Pio's 5.918 @ 87. Charlie Dolbin was given this race on the tree as the Sleek Corvette of Larry Wood was off and running early -.015 6.569, while Dolbin just kept the car hooked and dropped a 4.442 @ 169 on the boards. Steve Gorman would have his hands full with Tom Kasper staged next to him, both spooling, Kasper's Mustang launched high and hard -.044 later than Gorman .036 in his Mustang, both cars were still grabbing for sky as Gorman began pedaling, Kasper was not to be caught, 4.354 @ 179 to a losing 4.698 @ 171.
Outlaw 10.5 Eliminations Semi Finals:
Joe Newsham was to face Tom Kasper in a defining moment for both teams armed, locked and loaded for a drag race, these two competitors have been facing each other for years at this track, they decided that it was going to be a damn good race and didn't let anyone down. Both cars were prepped and staged, no games, no BS, just get out there and do it. Kasper cuts a solid .035, Newsham is a little later.056 as both cars left, the feel of excitement climbed with the cars front ends and RPM as fans were now part of this race too just waiting for that minute' 1/8th mile ET to show up on the boards. As Kasper lit the "W" first with a slower 4.373 @ 179, Newsham was only .016 behind in the MOV with a losing but quicker 4.352 @ 175, this race was one everyone couldn't place a bet on even if Vegas gave odds. The younger side of the Christy / Kasper team was staged to have another Mustang Shootout but this time Nitrous vs. Turbo. Dolbin nails the tree .031 while young T.J. Kasper is hard on his tail .054, Dolbin gets loose and power falls off as Kasper is disappearing into the dark in the "Blacked Out" Mustang, all we could see were the tail lights in the dark Dolbin finishes with a 5.504 @ 98 to Kasper's 4.319 @ 186. Kasper goes to the final to meet his father as curfew is closing in at Atco Raceway.
Outlaw 10.5 Eliminations Finals:
Right at the dawn of the Curfew, time was left to finish this race between the father and son team of Christy / Kasper Racing, both sleek Mustangs were back in the lanes promptly with owner Gil Christy watching with anticipation as to who was going to be the champ for the night. With slight dew on the track heated only by the heightened anxiety of the fans waiting behind the team's large group at the starting line, there's no holding back between these tow family members but absolutely competitive racers. T.J. Kasper .051 hammers father Tom Kasper .108 on the tree and it was said and done as T.J. blistered the track while Tom was giving it his best taming the 1/8th with every slip of the tire reaching the finish line 4.353 @ 179 to T.J. Kasper's winning 4.302 @ 178. An equally matched set of cars is easily the assumption that can be made; MPH's and ET's throughout the day were impressive for both drivers.
"We have made some big changes to the Tom Kasper Mustang in the last few days going from a Lenco to a Rossler T400 with our expectations of this transmission now becoming evident that it would make the change in performance we needed along with a freshened Proline motor, we are very happy with both decisions"
said Christy confidently and went on more to praise his team and their efforts.
Congratulations to T.J. "Kid Kwik" on an outstanding performance and win.
Atco Raceway 8.50 Index Qualifying Session:
Again one of the most enjoyable classes takes center stage with their exciting action, close races and exceptional cars, man we like these wheel standing Street Style cars banging the 1/4 mile. Some may find this a disturbing trend other than the number one qualifier Mark Bowen who is always at the top more often than not his 8.157 @ 161 is standard fare for this J and E Performance Nova. Al Fonse Jr. was back in action after repairs to his brutal black Camaro, with his large team making every effort to get the tune right on the now different intake configuration, I think they nailed it with a number two spot of 8.518 @ 156. Charles Presinzano follows up the top three of this session right in the thick of things 8.527 @ 162. Steve Faust created a highlight reel of one of the biggest controlled wheel stands in his supercharged 68 Camaro, Right off the launch it climbed to the bumper and rode out past the 330 ft mark settling down nicely with no damage.
"We have been taking power out of the car and this is what was the result, I felt confident as I shifted and mashed the pedal to lay it down as soft as I could"
said Faust, Gary Kramer used the Index as did Bill Dutka for testing;
"We've been chasing this tune up for awhile and thought we had it on this Procharged Chevelle but have more wok to do to get this power coming in right"
said Rob Weston and Gary Kramer in the pits.
See full Qualifying Below.
Final Qualifying Order Outlaw Index 8.50:
1) Mark Bowen, 72 Nova, BBC, 8.157 @ 161
2) Al Fonse Jr., 93 Camaro, 8.518 @ 156
3) Charles Presinzano, 87 Mustang, 8.527 @ 162
4) Brian Ferrari, 66 Chevelle, BBC, 8.528 @ 157
5) Louis Martinez, 87 Mazda RX7, SBC, 8.53 @ 159
6) Sal Kazalski, 71 Nova, 8.568 @ 161
7) Franky Santos, 69 Chevelle, BBC, 8.583 @ 157
8) Mike Grosseto, 99 Camaro, 8.600 @ 164
9) Scott Shepherd, 69 Camaro, BBC, Nitrous, 8.605 @ 162
10) Alan Davidowski, "No Information" 8.613 @ 137
11) John Goss, 78 Camaro, BBC, 8.629 @ 162
12) Joe Gentiluomo, 88 Camaro, 8.700 @ 172
13) Steven Faust, 68 Camaro, 8.867 @ 161
14) Lee Rocchio, 67 Nova, 9.667 @ 143
15) Andreas Krampelas, 72 Nova, 9.921 @ 146
16) Rob Poochigian, BBC, Supercharged, 13.129 @ 110
17) Gary Kramer, BBC, Supercharged, 13.248 @ 85
18) Bill Dutka, 79 Malibu, BBC, twin Turbo 7.967 @ 177
Outlaw 8.50 Index Eliminations Round One:
Louis Martinez manhandles the track "No Mas" .084 8.632 @ 137 to competitor Lee Rocchio 9.680 @ 141, Scott Shepherd launches hard in the classic Camaro giving up some tree .092 but takes the win 8.505 @ 163 being the only racer of the night to be in the ".500's" at this time against the losing Alan Davidowski .060 8.599 @ 131. Sal Kazalski .220 8.656 earns a bye run when Steven Faust doesn't make the call. Joe Gentiluomo .028 is nearly given a .200 head start off the tree by Franky Santo's .233, but couldn't pull off the win losing 8.878 @ 166 to Santo's 8.568 @ 157. Charles Presinzano .080 8.606 @ 155 takes his round against Rob Poochigian .135 8.720 @ 157 who found some traction for this beast but not enough against this racer. Mark Bowen .156 9.075 @ 139 Ousts a spinning Bill Dutka 13.795 @ 56. Al Fonse Jr. and Brian Ferrari take singles as Gary Kramer and Andreas Krampelas do not make the round.
Outlaw 8.50 Index Eliminations Round Two:
Sal Kazalski continues his winning way .025 8.557 @ 161 against Louis Martinez .080 8.574 @ 156, Brian Ferrari .033 8.557 @ 161 takes out Franky Santos handily .080 8.574 @ 157, Scott Shepherd again is deadly consistent .034 8.550 @ 162 making another round against a champion of this class Al Fonse Jr. .028 8.567 @ 157. Due to a misprint in the sheets, Mark Bowen advances, as does Charles Presinzano no correct times are recorded on the sheets.
Outlaw 8.50 Index Eliminations Round Three:
Scott Shepherd saves his tune and takes his bye run into the semi Finals coasting the bad silver Camaro to 8.994 @ 121, Brian Ferrari put together an winning package to take the win .016 8.564 @ 150 against Charles Presinzano .053 8,573 @ 159, Sal Kazalski is put on the trailer .077 8.610 @ 160 by Mark Bowen .053 8.573 @ 150 FTW.
Outlaw 8.50 Index Semi Finals:
Brian Ferrari earns his Bye Run but puts a tune in to scare off the competition once it was lit on the boards, .065 8.507 @ 158, they don't call Ferrari "Mean Green" for nothing, this was a money pass for him "Old School Get In Your Head Style Racing". Scott Shepherd in the battle of the Silver GM's was finally shot down in this round .042 8.543 @ 162 with Mark Bowen doing his thing again like a well oiled "And Tanned" Machine .022 8.548 @ 158.
Outlaw 8.50 Index Finals:
An uneventful final was in store for this race as Brian Ferrari couldn't make the call but thinking it was going to be smooth sailing for Mark Bowen may have been a little overload for the Nova that sat in the burnout box cranking over many times before finally starting as curfew again was upon us. Bowen pulled to the line in time and began his winning pass into the night running it out the back door .044 8.493 @ 161, As Bowen goes his fun demeanor took this pass and really drove much farther than he had to as the car sang on the top end for longer than any would expect in a victory pass.
Congratulations to Mark Bowen and J&E Performance doing it "Bowen Style".
275 Drag Radial:
With only three competitors, the northeast may not have known there was a race being held. Lewis Jones number one qualifier takes his win via a bye run .085 5.517 @ 138, Alex Vrettos Qualified number three would go down spinning .018 7.916 @ 69 to Richard Bruder's gorgeous Mustang 5.098 @ 142 who was the number one qualifier.
275 Drag Radial Finals:
Richard Bruder was on it all day, this car ran fantastic each round it was on the track taking the win .031 5.099 @ 142 just missing the 4 second pass these guys all strive for against Lewis Jones in the Drummond Mustang .123 5.152 @ 138.
Congratulations to Richard Bruder and team on their win at Atco Raceways Super Saturday.
Atco Raceway 10.00 Index Qualifying Session:
Let's face it guys, 10 seconds flat is quick for almost anyone these days but doing it through many rounds as a "Heads Up" class and not being a weekly "Bracket Style Racer" makes it that much more of a challenge with little seat time. Mark Plucinski headed the field of these index racers, destined for the top of the class with a 10.003 @ 134, Plucinski 's flamed Mustang was followed buy the Nova of Cary Cable Sr. with another dead on 10.004 @ 125. Harry Weber Jr. filled in the top three with his well known "Hulk Dart" with a 10.015 @ 135.
Nicole Worthington, new to this class falls to the bottom of the ladder going under in her short stint at this but The "Elder Statesman Lee Grinnell" should have known his game as this is many seasons under his belt but we all know Lee as the guy that loves to race and have fun with his "Draggin Wagon".
See full Qualifying Below.
Final Qualifying Order 10.00 Index:
1) Mark Plucinski, 92 Mustang GT, 10.003 @ 134
2) Carey Cable Sr. 72 Nova, BBC, 10.004 @ 125
3) Harry Weber Jr., 68 Dart, SBM, 10.015 @ 135
4) Brendan Mills, 92 Mustang, Supercharged, 10.016 @ 132
5) Tom Wood, 84 Regal, 10.029 @ 133
6) Jeremy Dell Arciprete, "No Information" 10.032 @ 137
7) Michael Colo, 93 Mustang, SBC, 10.041 @ 134
8) Carl Ungaro, 67 Chevelle, BBC, 10.071 @ 137
9) Dave Cappolina, 92 Mustang, 10.134 @ 135
10) Mike Romeo, 74 Camaro, BBC, 10.142 @ 116
11) Ray Wallis Jr. 71 Chevelle, SBF, 10.207 @ 131
12) Dave Camp, 68 Nova SS, 10.278 @ 129
13) Nicole Worthington, 69 Firebird, - 9.989 @ 135
14) Lee Grinnell, 78 Fairmount Wagon, SBF, - 9.975 @ 134
10.00 Index Eliminations Round One:
A nice way to see rounds start out is racers stretching their legs in a double breakout which the first pairing between Tom "Wheelie" Wood and Dave Camp showed the fans, Wood takes the win .034 9.996 @ 134 to Camp's .028 9.989 @ 128. Ray Wallis Jr. Faced Off against Brendan Mills, but never short on dramatic racing, this class provides, Ray Wallis was doing his burnout as Brendan Mills was not in the box, suddenly he came into view only to be disqualified for not making it time, yet Mills was not able to plead his case and a swelling argument started at the beams where he was ejected from the race after a long discussion with Officials. Wallis finished his run .000 10.079 @ 135. That cagey veteran Lee Grinnell was holding his hand close as he dropped a .008 10.063 @ @ 127 against the losing Mike Colo .023 10.105 @ 128. Nicole Worthington went out early, she had a good run despite a slow RT, .110 10.039 @ 134, Jeremy Dell Arciprete had the ultimate package in his run .024 10.011 @ 136 against the little lady. Carey Cable almost gives this one up to Dave Cappolina, Cable was late .054 to Cappolina's .011 but Cable makes it up 10.027 @ 131 to a losing 10.077 @ 135 by Cappolina. Harry Weber Jr. vs. Mike Romeo gave us another close double break out, Weber put up a slower .048 9.981 @ 135 for the win as Romeo was faster but under worse .056 9.953 @ 133. Mark Plucinski and Carl Ungaro proved they have a little more power in them dropping another double breakout on the boards, Plucinski holds off Ungaro .012 9.979 @ 135 to Ungaro's .045 9.964 2 133.
10.00 Index Eliminations Round Two:
Carey Cable again takes his race a different way to the winners spot with a .071 10.001 @ 131 using ET this time over reaction time like an automatic weapon, just fire, Tom Wood was the recipient of this set of strong numbers in his losing effort .023 10.055 @ 133, if you're wondering that was a MOV of .006. Ray Wallis was definitely out of sync this round as his .318 light showed while opponent Lee Grinnell was also late but only .195, Wallis tries to make it up but breaks out 9.937 @ 134 to Grinnell's 10.026 @ 130. Jeremy Dell Arciprete takes a solo as Harry Weber Jr. pulls in the beams but backs out possibly hurt N/T. Mark Plucinski takes a solo pass into the next round 1.551 11.752.
10.00 Index Semi Finals:
Carey Cable puts away The "Old Feller" Lee Grinnell by way of strapping a .029 on the tree to Grinnell's .068 forcing Grinnell to throw some horsepower down breaking out 9.980 @ 135 while Cable finishes his run "Grinning" at another final appearance 10.020 @ 131, Grinnell is back in the pits feeling like he just got hip thrown. Jeremy Dell Arciprete takes a solo as Mark Plucinski doesn't make the call and heads into the final.
10.00 Index Semi Finals:
Heading into the deepest dark of the night Carey Cable would face the team of Jeremy Dell Arciprete
"See those big guys, they will break me in half if I beat them"
Cable stated laughingly as these guys are truly fun competitors in an outstanding class. Cable goes red on his pass -.019 9.976 @ 136 while Jeremy Dell Arciprete .006 10.546 @ 133 heads to the winners circle as champions of the Atco Super Saturday 10.00 Index Session.
Congratulations to this team on an impressive day.
Atco Raceway 12.00 Index Qualifying Session:
As ET slows, the action speeds up with tight racing by these racers vying for positions in the ladder and getting that dead on 12.00 in their hand, Anthony Staria came the closest grabbing spot number one 12.012 @ 115 with A young man named Keith Reiss following at 12.014 @ 112 and the Hemi man Walt Haas driving his slick Malibu Wagon into the top three 12.021 @106.
See full Qualifying Below.
Final Qualifying Order 12.00 Index:
1) Anthony Staria, 69 Camaro, 12.012 @ 115
2) Keith Reiss, 71 Chevelle, 12.014 @112
3) Walt Haas, 80 Malibu Wagon, SBC, 12.021 @ 106
4) Eric Mazzoni, 12.033 @ 112
5) Robert Dooley, 12.035 @ 112
6) Jim Harvey, 68 Camaro, BBC, 12.057 @ 110
7) Barbara Lutz, Camaro, SBC, 12.064 @ 113
8) Chuck Koenig, 12.074 @ 106
9) Steve Demaria, 92 Mustang, 13.004 @ 105
10) Mike Nahill, 11.992 @ 105
11) Jim Schmidt, 72 Pontiac, 11.814 @ 109
12) Chad Pomierny, 11.782 @ 114
12.00 Index Eliminations Round One:
Anthony Staria opened the rounds handing a loss over to our "First Lady" of the 12.00 Barbara Lutz by way of .023 12.008 @ 109 while Lutz would have a hard time beating this number .048 12.027 @ 113, Walt "Hemi" Haas has eyes in the back of is head after strapping a .009 light on the slower reacting Steve Demaria .106, Haas pulled it back a bit seeing through the back of his helmet and made sure he had the win with a 12.218 @ 90 to Demaria's 12.746 @ 105. Robert Dooley takes a solo as Jim Schmidt can't make the call, 12.053 @ 113. Chad Pomierny's poor reaction time .118 was the untimely death of his day against a seasoned veteran like Jim Harvey; he'll nail you to the tree and make you run his race each time. Harvey takes the win .036 12.010 @ 108 to the losing 12.124 @ 103. Chuck Koenig is extremely late on the tree .159 to Keith Reiss' .028 forcing Koenig to breakout 11.857 @ 112 vs. Reiss' 11.994 @ 112. Mike Nahill is taken out in his first round .099 12.203 @ 109 to his opponent Eric Mazzoni .036 12.107 @ 104.
12.00 Index Eliminations Round Two:
Anthony Staria drops a red bulb on the tree -.018 11.971 @ 115 while Eric Mazzoni leaves himself a little room for the win .045 12.133 @ 111. Walt Haas takes it to Jim Harvey on the tree and the race is in his hands now with a .018 light to Harvey's .095 Haas' strategy was more complete with his win light on 12.100 @ 107 to Harvey's 12.031 @ 110 less than a hundredth separated the two. Robert Dooley had no chance after a .395 light while Keith Reiss was on it .025. Reiss takes the win light again 12.279 @ 95 while Dooley tried to compete 12.068 @ 113.
12.00 Index Semi Finals:
Eric Mazzoni takes his bye run but tests the waters .041 12.084 @ 111 while Walt Haas and Keith Reiss will be duking it out in the black Chevy's, both are extremely clean and this young man Keith Reiss will have to have it all there to take out the "Big Guy" Walt Haas. Reiss puts a .030 light on Haas with a .097; Haas looks to run down Reiss breaking out 11.973 @ 107 as Reiss takes the win 12.037 @ 112.
12.00 Index Finals:
Eric Mazzoni must have been shocked for allowing a .118 light for himself in a final against a young man that had been plowing over some of the best in the class which is how Keith Reiss would repeat his actions with a solid .038 light 12.049 @ 106 to take the win with Mazzoni 12.069 @ 111 losing. Keith Reiss takes his trip to the winners circle "Keith built this beautiful Chevelle by himself starting at age 18 now 19 it's gleaming in the winners circle" stated his team mates.
Congratulations To Keith Reiss for his 12.00 Index Win At Atco Raceway Super Saturday.
This Author would like to thank the staff at Atco Raceway for the track access, the Northeast Outlaw Pro Mod Association for allowing me to again be a part of their experience, Dave Milcarek / Steve Bell and Joe "TwistedVette" for sharing the sidelines for photos and all the racers that welcomed me to their pits all day; the best of the best are always there for me.