Northeast Outlaw Pro Mods "Rumble At The Grove" 2010
Pro Modified Thunder In The Distance.
By
goDragRacing.org
We've all been accustomed to the surroundings of
Maple Grove Raceway
nestled in the mountainous area of Pennsylvania. Annually there comes a show to the Grove that states the obvious; "The Rumble At The Grove" featuring the
Northeast Outlaw Pro Mod Association
creating that "Rumble" which Webster's Thesaurus defines when used in a verb, "to make a low heavy rolling sound and to travel with a low reverberating sound" which is the only way to explain to your senses what it is that just shook you from the inside out with the thrum of alcohol pressurized with superchargers and nitrous blasted out the pipes through mega cube big blocks. Inside the team competition a similar "Rumble" was going on within the two classes, Nitrous Only and Blown vs. Turbocharged" in this association the same word also takes on the last entry as the thesaurus defines "a street fight especially among gangs" which in this case is a friendly street fight whereas all the racers are vying for points, status and that ultimate win amongst friends.
Please Read On !!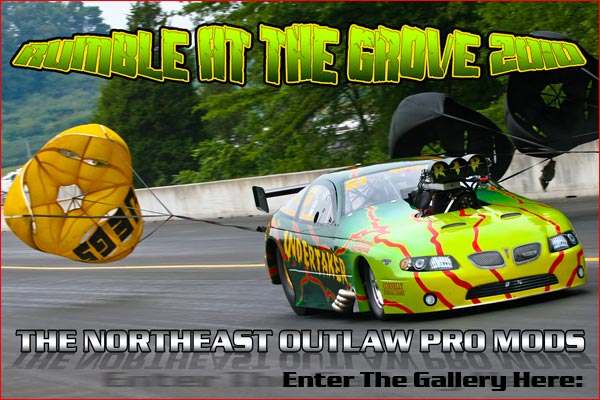 Enter The Northeast Outlaw Pro Mod Gallery From The "Rumble At The Grove" 2010 Over 350 Images
The Northeast Outlaw Pro Mods started their day with two qualifying rounds of tuning skills and searching for that sweet spot in the track to make their full quarter mile passes on, the heat was nominal as compared to previous weeks but humidity was high all day keeping tuners on their toes. A drivers meeting was held for all racers in the confines of the Maple Grove tower as "Vito Micciolo" and Association President "John Mazzorana" went over the days event schedule standing on their principals of giving the fans the best show possible, staying safe and the press involved including Jimmy Biggs of
BulletVision
combined with
YellowBullet.com
where the race can be seen at specified times including interviews with sponsors and drivers with "Rockin Rob" Cherkas at the microphone and full race action close up. George Watters tying up the You Tube end of things, goDragRacing.org taking photos of both the Pro Mods and racing during the event.
Entering the pits, you see trailers and stackers lining the main row, gleaming machines and teams hustling with transmissions, clutches and nitrous bottle all being prepped for the rounds, families wandered in admiring the teams professional look and friendly conversations with deep inquiries into what a Pro Mod is or how a pro Mod works, these are powerful doorslammers you rarely get this close to as a fan and they surely appreciate it as pits are wide open and welcoming for signatures on racers shirts or a photo they may have for a memento of their experience with drivers and teams.
Qualifying Highlights: Turbo vs. Supercharged Session's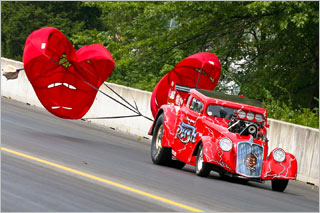 Rocking the Grove with the pressurized belt driver behemoths covering the quarter mile sat in line awaiting the starting call, cranking up these beasts with eye burning fumes and the freezing moisture covering the carbon fiber blower hats from the cold intake through the blades as the motors come up to RPM with Rockin Rob Cherkas giving detailed information for the fans from the booth with John Mazzorana providing the color commentary. Tim O'Hare who's name is justimmortalized in Pro Modifieds took his first round qualifier and simply laid one down for the top spot and wouldn't better it in his second but his efforts to make the ladder were seen and heard on this pass blistering a heat of the day 6.152 @ 231.20 chugging in the humidity. Andrew Parise 6.190 @ 231.48; his wife and partner in Pro Mod "Dina" was team captain for the day and hostess to fans after an incident at MIR who will be back in action soon as the car is getting repaired at the Montana Brothers Chassis shop had his 53 Vette on a rope bumping himself up in the ladder on a wild "On It" 2nd qualifying pass with the car coming to a stop hopping wildly in the traps trying to stop the momentum. Steve King aptly named since his roots go back as far as we can remember and virtually is the "King" when it comes to Pro Mods, the name implies his efforts to power the Camaro into a winners circle spot with a dedicated crew wrenching this car into the third spot with a first round number he couldn't better 6.212 @ 233.72. Larry Plummer scorched the asphalt in the gorgeous Pullin / Plummer Firebird tracked the groove knocking down a solid number as this team is sitting in the fourth spot after the atmosphere was vacuumed in by the massive blower dropping a 6.228 @ 230.80, this car is simply wicked sounding !! Pete Farber in his Daytona Charger Pro Mod filled the time clocks with excellent numbers keeping his spot safe running the sleek red machine down the track smooth as silk and looking brutal doing it; gotta love those flattened out Daytona's under power, the big Hemi powered out a solid 6.238 @ 229.70. Frank Patille captured the number six spot with a big team effort moving the big bad black Buick down the track huffing alcohol out the zoomies from the BAE Hemi under that stylish front end ripping off a stout 6.336 @ 225.86 though tossing the belt on his second pass, back in the pits, John Salemi of DMPE was hard at hand setting this machine on kill for eliminations. Derrick Townes gets a better run on his second qualifier after his pairing with Tommy Gray led to an aborted run but Team Townes offered up some brutalizing of the track surface heading into the top end on a massive charge putting up a strong attempt 6.371 @ 230.06 in the lucky number seven spot, This car is absolutely spectacular sitting still or at speed, it just plain works. Gerry Capano struck the starting line with his AJ 481X power Corvette to the tune of 6.401 @ 221.92, this sleek black Vette is a clean version of the Corvette, simple, well stated looks with rich black and red paint, Gerry also owns a couple of classic Corvettes so his knowledge of what Vette Aficionado's like is what makes his car stand out. The Organization welcomed back Tommy Gray after the passing of his father, as a dedicated racer his efforts are that of a man in anguish but still wanting to be with his father in spirit presenting himself as the man we know him as, a proud son. Tommy's first pass was uneventful but came back to offer up a strong 6.511 @ 225.33 definitely related to his loss of seat time during his loss of a parent and the move back to the GTO from the Camaro. Bobby Martin and his team brought to the Grove a sweet little 33 Willy's Coupe featuring a blown and injected Big Block Chevy, this thing is classic Pro Mod / Gasser looking mix of short wheelbase and wild graphics. Martin took his passes as a primer in this association's first appearance and the fans loved it, honking through the traps with a slowing 7.151 @ 188.31 but no Pro Mod fan would have a frown on their face seeing this car handle the track and drop the laundry. Kevin Vanderbeck finished up the ladder struggling with the 38 Hudson coupe 9.650 @ 107.32, on both passes it was evident not throwing the chutes it may have not been on its game this afternoon but still a fan favorite of all.
This wraps the Sessions for Turbo vs. Blower at the Grove; See below for elimination results round by round.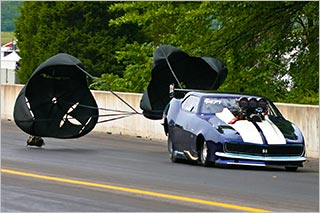 1 : Tim O'Hare
, 68 Camaro 6.152 @ 231.20 | Website:
Timothy O'HareCustom Homes
2 : Andrew Parise
, 53 Vette 6.190 @ 231.48 | Website:
"Parise Racing"
3 : Steve King
, 68 Camaro 6.212 @ 233.72
4 : Larry Plummer
, 68 Firebird 6.228 @ 230.80
5 : Pete Farber
, 69 Daytona 6.238 @ 229.70
6 : Frank Patille
, 57 Buick 6.336 @ 225.86 | Website:
CCI Motorsports "Home Of The Baddest Buick Pro Mod"
7 : Derrick Townes
, 68 Camaro 6.371 @ 230.06 | Website:
Derrick Townes Pro Mod Official website
8 : Gerry Capano
, 63 Vette 6.401 @ 221.92
9 : Tommy "The Undertaker" Gray
, 03 GTO6.511 @ 225.33
10 : Bobby Martin
, 33 Willy's7.151 @ 188.31
11 : Kevin Vanderbeck
, 38 Hudson 9.650 @ 107.32
Qualifying Highlights: Nitrous Session's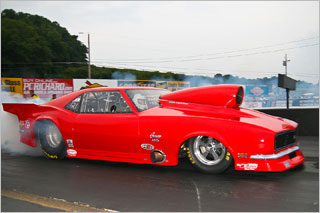 Making power in any atmosphere is hit or miss when it changes so much from qualifying to rounds, Nitrous assisted cars have the advantage of making their own atmosphere with pressurized N20, in heated temps they are bad fast and more so a spectacle of fiery pipes rich with burnt gases exiting from the enormous power which was shown by the qualifiers at Maple Grove. Fredy Scriba led the huge scooped monsters of the quarter mile after a first pass didn't give too much results but came back in the second round to be "The Man" of the afternoon bumping the previous number one qualifier down a notch and taking the top spot with a wicked 6.072 @ 234.33, Scriba waved his "Sorcerer's Magic Wand" and his spell was cast. Matt Deitsch 6.146 @ 233.12 who held the number one spot dropped off in second qualifier as his third time out with the new Camaro Pro Mod filled with giant cubes and one of the best working chassis around, (Tim McAmis) made it known that this hard working driver and Crew Chief has what it takes to solidly take a top spot at will, a New York "tour de force" of ability. Gary Courtier is one of the majority of big "Fulton Powered" nitrous rides, it's killer paint, sick design and team effort to make this ride one of the most notable on the net and at events gave the fans the show they wanted, the brute power of a well designed car getting quicker with each pass. Courtier's first round result had to stick with a well done 6.269 @ 226.28 as second round, the rear broke and was ready for rounds with team members "All Hands On" as eliminations would soon begin. Mike Ghiraldi who had found after the last Maple Grove Race his Shafiroff engine had bent a valve was back in the running with none other than Jack Boer helping the tune and maintenance of this machine, it paid off big time with his clean passes 6.324 @ 223.47 and no worries for the bright red Camaro. John Montecalvo, yes "That John Montecalvo" IHRA Mountain Motor Pro Stock Cobalt had issues all day not getting the results they wanted as this team is dedicated to burning the Nitrous entries with all motor power, Finally they get in the ladder and it's now looks like an IHRA event at the starting line as Montecalvo trips the lights 6.356 @ 221.05 for the final spot in the pairings.
This wraps the Sessions for Nitrous; See below for elimination results round by round.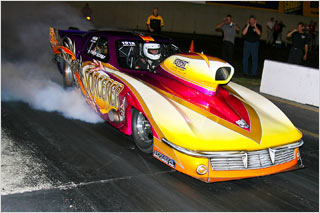 1 : Freddy Scriba
, 63 Vette 6.072 @ 234.33
2 : Matt Deitch
, 68 Camaro 6.146 @ 233.12
3 : Gary Courtier
, 68 Camaro 6.269 @ 226.28 | Website:
Courtier Home Improvements
4 : Michael Giraldi
, 68 Camaro 6.324 @ 223.47
5 : John Montecalvo
, 2010 Cobalt 6.356 @ 221.05
Northeast Outlaw Pro Mods Eliminations Round One: Nitrous Class
Fredy Scriba earned his Bye run as the number one qualifier and possibly didn't want to show his whole hand and shortened his pass .042 8.299 @ 111.96 saving valuable resources for later rounds. Mike Ghiraldi found himself on the losing end of the battle with a good showing .073 6.474 @ 212.23 with Gary Courtier posting his cleanest and best run of the day after the rear was repaired, the flamed Camaro blasted to a sweet sounding .027 6.216 @ 230.57 pipes aglow for the length of the track for the win. Matt Deitsch who most would think was a promising ride for the winners circle as he keeps getting quicker with this car wound up stalled in the track after the burnout from a faulty battery. Deitsch, unhappily jumped the wall and watched opponent John Montecalvo make a single to the tune of .029 6.365 @ 220.94 moving him into the semi's.
Northeast Outlaw Pro Mods Eliminations Semi Finals: Nitrous Class
John Montecalvo .988 13.762@ 90.79 takes a stroll saving any maintenance time with a BYE run leaving Fredy Scriba and Gary Courtier waiting in the lanes behind him. Scriba screams through his burnout as does Courtier but never does it go as planned, Courtier has trouble reversing the car while team mates sprint to the ride and push it back with Scriba being the gentleman and waiting for a drag race never flinched. Both cars staged as the tree fell, Courtier is out first .013 to Scriba's .057 but Courtier slows on the top end 6.432 @ 225.07 as Scriba burns up the asphalt again with a formidable 6.032 @ 235.43 and the lowest ET of the day so far.
Northeast Outlaw Pro Mods Eliminations Finals: Nitrous Class
The nights show has to come to an end, the day within these classes featured Jet Cars, Wheel standers and Normal Race Operations that led up to this amazing final between Fredy Scriba and "All Motor" John Montecalvo. After the burnouts were dealt with and teams had cars awaiting the lights to fall, Montecalvo is out on an awesome light .008 pulling gears down the quarter mile ending his race, big cube high winding RPM power on the losing end of the sheets with a 6.346@ 218.69. Scriba who now has already begun to pull his chutes since he ripped off the lowest ET and highest MPH of the day to make this run worthwhile for the full day at the track in a flaming pass hurling the Vette into the five second zone!!; lets just look over his numbers .034 5.987 @ 237.71 which track officials seem to feel this is a new track record at Maple Grove.
Congratulations to this hard working team and big thanks for that awesome pass in the final. Scriba takes the title of four races now!!
Northeast Outlaw Pro Mods Eliminations Round One: Turbo vs. Blower
Gerry Capano .197 had a good chance at making the Camaro Muscle in the other lane an "L" in the column but his opponent of the Corvette Tim O'Hare .142 would show Capano differently as O'Hare would put a 6.306 @ 228.46 on the round sheets to Capano's good effort of 6.324 @ 217.04. Pete Farber already has the win light on in his lane as Larry Plummer goes red -.001 to Farber's .005, Farber slows it down taking the win 7.693 @ 123.66 while Plummer posts his best of the day 6.177 @ 232.39 loss. Derrick Townes shows no mercy on the tree dropping an .021 light on Andrew Parise .044, Parise slowed on the big end while Townes roamed slightly but stayed in it for the win 6.302 @ 231.36 with Parise following 6.653 @ 214.79. Steve King looking mighty as ever left hard .041 on opponent Frank Patille .091, Patille tried to make a race of it against the "King" but came up short with a blast of fire exiting under the car from a valve cover leak with a 6.350 @ 207.69 to Kings brutal 6.143 @ 234.78 going into the semi finals.
Northeast Outlaw Pro Mods Eliminations Semi Finals: Turbo vs. Blower
Tim O'Hare would definitely shock us with his dead red -.073 putting him out of the race immediately so he backed off 11.195 @ 68.75 and watched Pete Farber do a Winged "Fly By" with the Daytona on his best pass of the day .018 6.188 @ 231.16. Farber puffed out a bunch of smoke on this pass and we will see if he can come back and repeat this nasty run!! Townes and King decided to add more than fire and smoke, they wanted to pedal their way to a final round in this match. Neither wanted to give up with the sounds of blipping throttles and earth shaking rumbles King came out ahead .027 8.026 @ 198.03, Towne put in a good effort but knew it was over and no one would take a chance in ripping up the side of a car this sweet .016 10.142 @ 110.51. To the finals we go.
Northeast Outlaw Pro Mods Eliminations Finals: Turbo vs. Blower
Steve King would find himself alone in the lanes after Farber found his last pass hurt the Daytona, King stated if the car got through first gear he would run it out making sure there would be no lane changes or first or worse scenario. King dropped the loud pedal and Bad Blue Camaro hurled itself off the line only to chatter the tires as King let it humble itself through the traps .390 8.600 @ 101.37.
Congratulations to this team on a hard fought win of the supercharged warriors taking Maple Groves Champion title in the "Rumble At The Grove".
Saturday Wrap !!
My ride up the turnpike was one of anticipation again seeing the 1320 warriors of the Northeast Outlaw Pro Mod Association make waste of the quarter mile again. The day proved to be one of the finest in qualifying and eliminations when you run them out. Maple Groves staff had the track set on "Hook" and performances showed and I know as a fan, I certainly enjoyed the show. My appreciation to the Association for having me along to shoot the images and report on these warriors of door slammer racing. The staff at Maple Grove for the awesome hospitality, racers I haven't seen in a long time and racers greeting me, I sincerely appreciate it. I know when you come to a NEOPMA event, you too will be a fan for life, so please follow their schedule and bring along the family, this is one of America's most dominant "exhibition's of speed" there is.
The Next Northeast Outlaw Pro Mods Event Is Scheduled for Sept 11-12th at National Trail Raceway following an Invitational to the members at Cecil County Dragway For The Yellow Bullet Nationals on September 3-5th Weekend in a non points exhibition.
Visit The Official
Northeast Outlaw Pro Mod Association Website For Schedule Information
The Northeat Outlaw Pro Mod Association Is Proudly Sponsored By The Following:NEOPMA Associate Sponsors:
Total Flow Cylinder Heads
,
Performance2Way Communications
,Barker Racing,
Ram Clutches,
Star Transporters
,
T&F Racing
,
VPRace Fuels
, Star Cab Co.,
dtpromod.com
,Pullin/Plummer Racing,
Mickey Thompson
, RichardsAutomotive,
Gary Courtier Home Improvements
,
American Racing Headers
,
WesternBeef
, Performance AutoCrafters,
CCI Constructors
,
Timothy O'HareCustom Homes
, Speedtech,
WD4ME.com
,
Pearl River Automotive.